Pipe Dream?! Can we make this happen?
Bob Rakita's Great Grape House??
American Harvest Specialty Foods, Arthur St & Route 18 (South bound lane), East Brunswick.
Nolan Lewin asked for it. Now we will work at materializing it.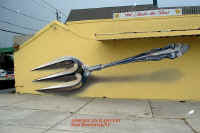 First the FORK, maybe the grapes!?
Watch the roadside show!
What's on the plate?
A roast beef sandwich? Coming this October
The food hits the wall again.