The phone call: Last October, 2004
Judy Wray, the Director of the Visual Arts League called me and said
the New Brunswick Train Station is having a 100 year celebration as a
historic and architectural landmark - and the organizers were inviting artists of all kinds
to do something during the celebration which would continue for
about a week.

There was a passenger tunnel about 80 feet long we could work on. People
walked through this area to get from one side of the tracks to the
other. Any ideas?

A few phone calls and a general direction emerged.

***

We began by rolling out 70ft of paper and taping it to the wall.

What we were hoping for was to have people participate in the creation
of a mural with a "train motif."

We had pencils, markers, crayons, and
oil pastels for anyone to use.

To jump start the process I started drawing a "cartoon" of a steam
engine and coal tender with the lyrics of Cat Stevens "Peace Train"
streaming from the stack. Judy went and had a section of model train
track copied multiple times, and started pasting them along the bottom of the mural.

We had a selection of lyrics that were to be included on the mural in
one way or another - "Imagine, and Working Class Hero" by John Lennon,
"Peace Train and Morning Has Broken," by Cat Stevens. "It Takes A lot
To Laugh, It Takes A Train To Cry," by Bob Dylan didn't make it.

During the course of the first day while we were there, including an
evening of pedestrian traffic, only one participant had drawn some
flowers on the tracks. People were generally reticent to add anything
to the mural despite our urgings. To help things along and let folks
know it was OK to draw on the wall, I drew a sign requesting
participation and added a few drawings "here and there".

Commuter trains came and went, people walked through the passageway and
"there were no takers."

Judy was drawing a train car with logs and said she was going to get a
coffee. I was at the opposite end working on the caboose, when a young
man came through and started looking at the log car and what had been
done.

I noticed him looking and told him to grab a pen of choice and draw
something.
"Naw naw, I don't know how to draw"

"You can't go wrong. Whatever you do is good. Draw anything, write
something, that's what this is about."

I continued working, and out of the corner of my eye noticed him grab a
marker, and with a flourish, write something -- BIG, and continue on
his way.

When Judy returns an, "Oh Oh!" echos down the tunnel, so I walk over to
see what was up.

It wasn't X rated but it was not exactly what we had been hoping for,
and pretty much agreed this could likely set a precedent for more of
the same. While being an honest contribution, it wasn't something that
would promote the spirit of the event.

We had a philosophical dilemma. "Crisis time in a creative world
abhorring censorship."

We couldn't very well tell people to feel free to add drawings or
comments, and then say, "oh jeeze you could do ANYTHING, and you had
to do --THAT!

We didn't have an immediate answer to the situation, but Judy kept
working, I worked, and nobody except for two people, had felt
comfortable contributing to the wall.

What was needed was participation.

Mulling it over, I had a possible solution to the potential of non
directed graffiti. Draw a box car around the "flourish of lettering"
making it look as if it were deliberate, and draw another one with
nothing on it, inviting comments. Judy took the solution further by
adding "I have a dream" and writing song lyrics on the car.

By the third day the wall was beginning to get a response with well
wishes and drawings beginning to appear, when something nice and
unexpected happened.

A young man comes walking through the tunnel, stops in front of the box
car with the "flourish" (which has other additions by now), stands back,
looks in my direction as I look at him, and smiles one of the most
heart warming grins one could imagine, and with every bit of pride
points and says, "that's mine, I did that, it's still here."

Yes it is,
and it will stay there.

The following day Dan Ramey came along and spent a day adding his
train car as did Patty Perla a day later.

Patty took a break from working on her car, when along comes a young
man who stops and looks at the the wall, takes a crayon and writes on
the wall.

Deja vu, is it the same guy or not?I really wasn't paying
attention in any of the cases so I wasn't sure, and again, this is a
public project.

Patty comes back and a low "Oh" echoes down the tunnel. Neatly placed
on the side of her car- not going outside the lines - "to Kim with
love, I'm on my way home."

Maybe an hour or so later a young woman walks by - I figure it's Kim by
the hesitation in her step as she walks by "their car."

I suppose she's kind of shy to take a picture with people around (she had something
in her hand, why wouldn't it be a camera considering the occasion).
Ahh, but a minute later Kim couldn't let this happen unmemorialized -
she comes walking back briskly, hardly breaking step, she takes a
picture and keeps on moving (Nope, I didn't see a thing Kim).

By the fourth day the Long train Mural had taken on a life of it's own.
There were all manner of drawings, comments and birthday well wishes,
with more to come. Children with their families stopped to contribute
as did teenagers, grandmothers, businessmen and women.

When the mural was taken down three months later, the most amazing
aspect, after the enthusiastic participation, was that no one had
defaced anyone else's work. No one intentionally wrote over, added to,
or covered anything someone else had done.

No spray cans, no 2inch markers
Definitely a testament to the respect a community can have towards
everyone in it.

Cat Stevens said it, "

Now I've been smiling lately, thinking about the good things to
come. . ."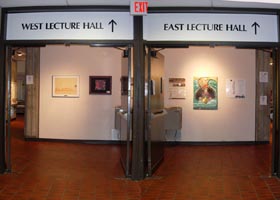 Enter!