"PIPE DREAMS" NJ Merges With "The GREAT PIPE DREAM", New Zealand and comes to the Paul Robeson School, Commercial Ave, New Brunswick. March 10-21, 2003
Students of Paul Robeson School. (left to right)
Tashara, Tiffaney, Sharnae.
With "Pipe Blond" (by Harry & Edie Cohen)
The Front Entrance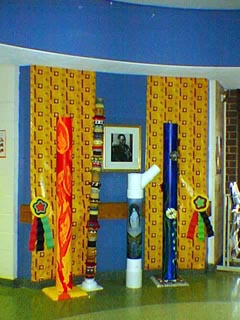 u

(left) Students at Paul Robeson School created the two pipes on the right and left. (John, Enjolin & Lori) 2nd left is a found object. (Found by Lynn Lerner, Florida) the one next to it is a digitally created design from a student, Thomas Leal at "In Progress", an after school media arts program in St Paul, Mn.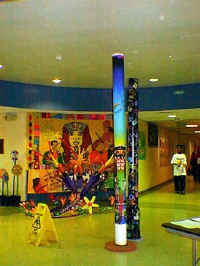 (Up Front) The nine ft high pipe with a computer design by Shankar Barua, New Delhi, India; to the right of it is the Hands pipe, created by teacher, Janis Scelsa and the students and staff at East Brunswick's Camp Daisy for children with special needs.
Behind, is the fantastic plastic piece sent from New Zealand, from Allenvale School in Christchurch, by teacher Tony King and his students. The Allenvale School is also a school for children with special needs.
"Little Bob" Duncan's Elephant God pipe dream
(Back wall) Catherine Yakovina (Digitally created); Dima Yakovina,(14yr)(Digitally created); Marlene Leitman;
Tihamer Binner (The Violinist in PVC Pipe); and two pipes done with tape from Hungarian artist, Judith Rosza.