This page is a portal to remind the peoples that life, and feelings, are important.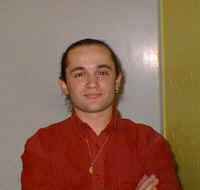 I am a French man, 23 years old, and I love the way pictures can make us feel. . . .
I do believe that giving peoples your love, attention, and sharing your feelings is more important than if your neighbor's dog do it on your grass, or this man's car stopped exactly at the same time than the light turned green.
I made this web page to share the pictures I take, so you can remember that your life is something important, and so are your feelings.
Thank you, and Enjoy : 0 )
Maxime
Thanks to Judy for what she does for all of us, and the heart she put on doing it ! (and for giving me a chance to show my pictures...... Thanks also to my friend Doug Mc Gregor, for giving me a chance to take some pictures in his secret lab : o)
Let's begin with the life is short Series . . .
| | |
| --- | --- |
| | Life is Short #1 |
| | Life is Short #2 |
| | Life is Short #3 |
| | Life is Short #4 |
Life is Short #5

The Falling ? Try not to . . ..

Laura, on the scene...

I Store Dead Peoples . . .

No Stress passing . . .

More pages soon, and a link to a personal web page . . .

Enjoy and thanks to Judy again. . .
Want to Contact me ? Follow the boxes . . .

---
Visual Arts League© Copyright 1999, 2012. All rights reserved. All images are the property of either Visual Arts League© or their respective artist's, and may not be reproduced or used in any way without the expressed permission of the owner.