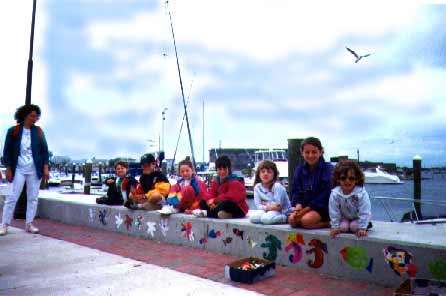 After this, they paid a visit to a State function in Trenton, N.J. at a Masonic Lodge. On this day, Senators came through and posed with the fish cast on the walls with an overhead projector.
The photos did not come out. Months have passed and an Advanced Photoshop class has come and gone and now one of the fish has begun to materialize. Jackie Rubel, Princeton, NJ, can be seen giving it a little support!
Now their fish will reappear, transforming from translucent images to become a part of the show, "Magnetic Connections". See the main index and click on the red button. The fish images will become a part of the Traveling Magnetic Show, a show with spare parts! The fish are all reappearing as magnetic pieces.