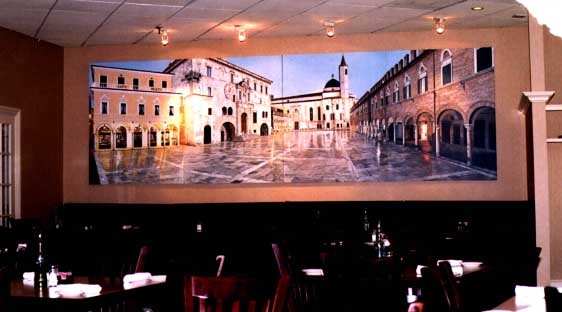 Lamberti's Cucina Restaurant in Manalapan
The ArtYard has its first Artist-in-Residence
1st panel 2nd panel


Contact - Little Bobby Duncan

littlebobbyduncan@yahoo.com


Little Bob Duncan, 56, an area artist sculptor and muralist is first
artist-in-residence at the Visual Arts League's "ArtYard".

One of Duncan's murals is on the 160 ft trestle in Milltown, behind
the Hess Station / Post Office at the corner of Main Street and
Washington Ave. VAL is bringing artists of all ages into East
Brunswick from all over.

While in residence, Mr. Duncan will create several murals (one for
the ArtYard, and one for Lamberti's Cucina restaurant in Manalapan,
NJ. The mural for Lamberti's is being done on wooden panels and
installed when complete.


Bobby loves working in the ArtYard surrounded by big trees and with
the company of Chuck the dog and Nietzsche the cat. He says it is a
most hospitable place to do art!