Dima Yakovina, (14 yr old) St. Petersburg, Russia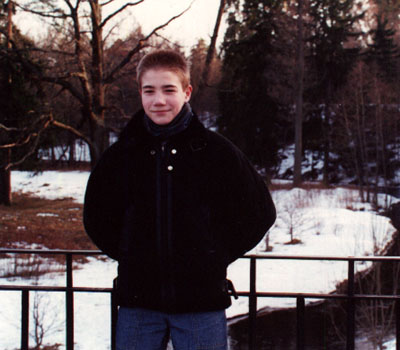 Dima Yakovina was born in St. Petersburg, Russia in 1988. He is 14 years
old. He studies in Peterhof Mathematical College. Dima has painted pictures
and created sculptures from the age of 3. Two years ago Dima began to make
digital images too. By his opinion it is an interesting process.
His digital art works and sculptures are represented at CD gazette of the
IDEA project in 2002. IDEA project is the Indian Documentary of Electronic
Arts. This project represents many artists from the different countries all
over the world. Also Dima participated in "The World Healing Book" which is
an international project of artists from different countries of the world.
People from around the world have lent their views and visions to create
hope and healing and works for peace. He is the youngest participant of the
book. Several Dima's art works are in private collections (France,
Ukraine, Russia, USA). You may look at Dima's artworks at URL
http://www.tcart.com/DG.html

Dima created the digital work for the pipe of the show "Pipe Dreams-the PVC
show" in the USA.
Here are his words about this project : "I am very grateful Judith Wray for warm
invitation to be the member of this project. It is very interesting unusual
project of people from different countries. I know that many young people
took part at this project. I think it is important because young people are
the future of our world. I wrote the word FREINDSHIP on the pipe which I had
made because it is one of the main condition of light future for the world.
I think a friendship among children could help to make friendly world. I
think the most deep feeling of friendship exist among children. They do not
think about money or glory or power. They help each other with opened
hearts. I painted flowers on the pipe too. The flowers are like children.
They need in the sun of friendship for our planet. It is simple idea of my
digital painting on the pipe. I would like to tell many thanks for my
mother.
My mother is the artist too. I think she is the great artist.
Also she helps me always.

Best wishes,

Catherine
http://www.tcart.com