...think globally and work locally,
using the creative energies from around the country
and the world to light a fire at home fueled from everywhere.

Thoreau said "
It is something to be able to paint a particular picture
or to carve a statue
and so to make a few things beautiful

But it is far more glorious to carve and paint the atmosphere and
medium through which we look.
Which morally we can do

To affect the quality of the day
that is the highest of arts."
| | | | | |
| --- | --- | --- | --- | --- |
| Change Arts Face | | | The Changing Face of Art | |
Icon's Story

Play like you mean it!

Flying Beetle goes home! Harts Lane, East Brunswick, NJ. Many years ago (in a kingdom by the sea ) an old Hungarian gave a gift of half a beetle to a group of artists. They took the beetle gratefully and it multiplied and flew many places. Now it has returned home with a story to tell.

Paul's Blog a painting a day !
International Dale's Blog page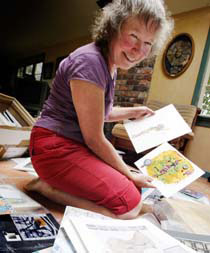 Duncan @ sea
The Ball Pipe is answering all the way from New Zealand